Description
Fully Recyclable

Our product range, including
our best-selling Turkish coffee
is 100% recyclable.
Barista Quality Brew at Home

Our Turkish coffee blends are
graded by a coffee Q Graders
and always score 90+.
Heritage in a cup

Our range of traditional Turkish
coffee with a signature twist will
take you on a trip around the
world.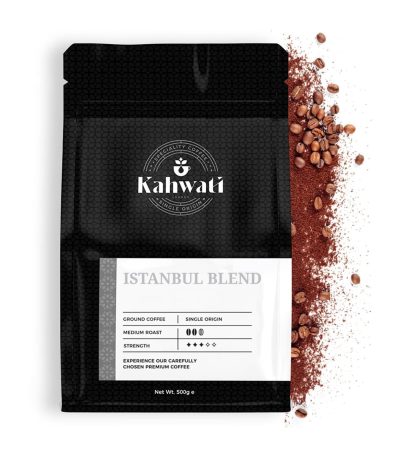 Istanbul Blend
Traditional Turkish coffee starring a signature twist. This blend is deep, rich and hearty.
Tasting Notes

Brown Sugar


Caramel

Silk Chocolate

View Product

Sham Blend
Well-balanced Turkish coffee with extra cardamom, hints of bittersweet cocoa & a complex fruity edge.
Tasting Notes

Toffee

Rich Chocolate
Cardamom

View Product

Kingdom Blend
light roast coffee features a smooth, mellow body and delicate flavours, retaining the most caffeine from the bean.
Tasting Notes

Honey

Saffron

Cardamom

View Product

Arabian Blend
An exquisite creamy blend with a dark chocolate finish infused with luxurious green cardamom. 
Tasting Notes

Milk Chocolate


Honey

Cardamom

View Product

What is Turkish coffee?
Tell me More
Why Kahwati?
Coming Soon…
What is Turkish coffee?
Turkish coffee, traditionally with added cardamom prevails in consumption in most Middle Eastern countries and far beyond.
Brewed in special pots with a unique method and served as a treat.
Tell me More
Our Rainforest Alliance Certified Turkish coffee comes in fully recyclable packaging with a resealable design to keep it fresh longer. Kahwati Turkish coffee is grounded and packed daily at our London Rostery. 
Why Kahwati?
We let our customers do the talking.
Check out the reviews for our Turkish coffee below.
Coming Soon…
Watch out for new additions to our ground coffee range.
Variety: Arabica
Altitude: 2000 masl
Our Rainforest Alliance Certified whole coffee beans are packed in fully at-home recyclable packaging with a resealable design to keep your beans fresh longer. Kahwati coffee beans are roasted and grounded daily at our London Roastery.
Tasting Score
We are dedicated to providing consistently great flavour to satisfy your taste buds. All our coffee is graded by coffee Q graders and have a tasting score of 90+
Sustainability is here to stay!
We are committed to 100% ethically sourced beans from independent farms in the world's finest growing region.
Our coffee is always rainforest alliance certified, helping improve livelihood and placing a strong emphasis on human rights, protecting landscapes and native forests.
Sustainability and mindful operations are at the core of every decision we make.
What Customers Say About This Product!

G. M. Brown, Amazon
By far the best Turkish coffee I've found.

Symran, Amazon
I've never liked coffee and bought this as a Father's day present, but since trying it – I love
coffee now!

Rebecca, Amazon
Really good coffee. Bought as a present for my husband, if you follow the instructions on the pack it makes an awesome cup of coffee which has become his daily treat.

Fred, Amazon
Beautiful ground coffee, the flavour of the cardamom is subtle, the sheerness is unsurpassed. Excellent Value for money and arrived on time. Perfect.